Excursions
Prior to the PhD Seminar, you have the chance to visit the wind energy research facilities at the University of Oldenburg. A team of PhD Students will welcome you and offer an exciting insight into the cutting-edge experimental facilities.
You can register for the excursion by sending an email to phd2023@eawe.eu with the subject "Oldenburg Excursion". A notification will be sent if there is a place available for you!
When: Tuesday 05.09.2023, 9 am to 4 pm
before: Optional, informal get-together on Monday evening
after: Joint train ride to Hannover (~2h) to join the ice breaker event on Tuesday evening
Where: University of Oldenburg, Küpkersweg 70, 26129 Oldenburg
You need to organize: Apply by email, travel to Oldenburg, ev. Accommodation from Monday to Tuesday
Info:
The research building for turbulence and wind energy systems "WindLab" provides space for the scientific work of 130 researchers from the fields of physics, meteorology, and engineering. The heart of the facility is a modern turbulent wind tunnel with an exceptionally long measuring section, which provides a unique basis for wind energy research.
The wind tunnel exhibits a cross-section of 3x3m² and a length of 30m. It can be operated in an open or closed configuration. The special feature of this channel is, besides the length, the possibility of tailoring turbulent inflow by an active grid. Different versions of active grids are available, which allow for a wide range of generatable flow fields, from simple gusts over shear to complex turbulent/laminar flow fields.
Wind turbines of two different sizes are available. The large MoWiTO 1.8 with a rotor diameter of 1.8m, which is an aerodynamically scaled version of the NREL 5MW reference turbine, and the small MoWiTO 0.6 with a rotor diameter of 0.58m, which is designed for a realistic wake development. Multiple models of the MoWiTO 0.6 version are available and allow to measure wake interactions and, by a Stewart platform, the wake of a floating wind turbine.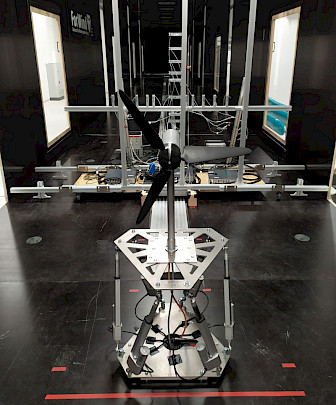 A further research focus is set on wind-scanning lidar measurement devices, which are mainly used in the open field. But the long wind tunnel also allows measurements in the laboratory. This enables Lidar measurements to be compared directly with other measurement methods, but also to measure e.g. wakes over a large area.
Besides an in-depth guided tour, there will also be the possibility to have some hands-on experiences with one of the above-mentioned research methods as well as to get in touch with the students who work with these devices in their PhD. The number of possible participants is very limited (approx. 10 persons) as we want to give you a personal experience. Participant places will be granted on a first come first served basis.
On the afternoon of the last day of the seminar, we offer you the opportunity to take part in the excursion.
Site visits:
Large Wave-Current Flume (GWK+)
Test Center Support Structure (TTH)
3D Wave Flow Basin (WSBM)
When: Friday 08.09.2023, 13:00 am to 3:30 pm
Start: University of Hannover, Appelstr. 9a, 30167 Hannover, Germany
Where: Leibniz Universität Hannover Forschungszentrum Küste, Merkurstraße 11, 30419 Hannover, Germany
How to get there: Joint tram ride from LUH to the sites and back
1. Large Wave-Current Flume (GWK+)
The Large Wave Flume (Großer Wellenkanal, GWK) in Hanover-Marienwerder was built in the years 1979 - 1983 as part of the DFG-funded Collaborative Research Center SFB 79. With a usable length of around 300 m, a width of 5 m and a depth of 7 m, it is still one of the largest wave flumes in the world. Since its construction, it has served national and international research interests dedicated to the development of waves and their interaction with a wide variety of structures.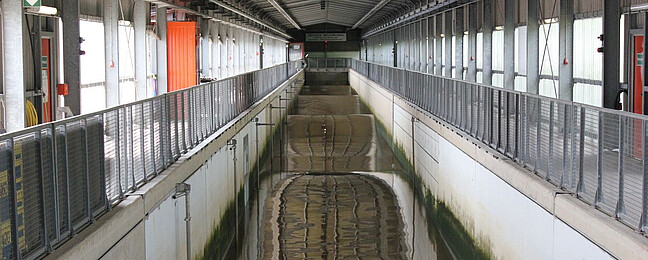 Until now, only waves could be generated in GWK. With the expansion of renewable energy generators on the sea, foundation aspects of such structures and the influence of tidal currents came more into focus. Recently the wave flume was upgraded with a powerful current system, a deep part for examining foundation structures and a more powerful wave maker.
Facts:
Maximum wave height: ca. 3 m
Length: 300 m
Width: 5,0 m
Depth: 7 m
Regular and Irregular waves
Active wave absorption
Maximum stroke: ca. 7.5 m
Link: https://www.fzk.uni-hannover.de/en/the-fzk/equipment/gwk
2. Test Center Support Structure (TTH)
This test center offers a unique infrastructure for testing all types of support structures, towers and foundations on a scale of 1:10 and larger. Support structures and foundation elements for wind turbines can be investigated experimentally on the 3D span field and in the unique foundation test pit in order to validate calculation models, optimize structures and improve structural safety. The aim is to increase the efficiency and service life of support structures. In order to investigate the fatigue and load-bearing behavior of foundations and support structures for wind turbines, large-scale experimental investigations are necessary. The results are used to validate simulation results. The test center is involved in numerous research projects and carries out extensive test campaigns on large structural components of onshore and offshore wind turbines here.
TTH offers:
Large scale testing
Further development and validation
Service life extension
Time-lapse testing
Higher cost efficiency
Material tests
New construction techniques
Assessment of ground behavior
Link: https://www.tth.uni-hannover.de/en/
3. 3D Wave Flow Basin (WSBM)

The 3D wave machine (72 individual wave blades) allows answering many questions related to basic research as well as studying practical engineering problems such as stability of breakwater heads, research on structure interaction with multidirectional sea state, spatial scour phenomena.
Facts:
Max. wave height: 0,32 m
Length: 20 m
Width: 40 m
Depth: 1 m
Regular, irregular, directional waves
Active wave-absorption
Current: 5 m³/s
Link: https://www.lufi.uni-hannover.de/de/institut/einrichtungen/wellenbecken/3d-wellen-stroemungs-becken-wbm